The "Keep It Simple" Portfolio
💡
How well can a simple portfolio composed of the SP500, Bitcoin and Ethereum perform in the next five years? We are about to find out! Capital deployed on May 16, 2022.
Go over here for the original idea.
Current state
Updated July 01, 2022
There is no reason to see a rally any time soon. Things will only get worst until we are a peak QT. Everything started to slide again yesterday, our Bitcoin entry point is getting closer.
The Keep it Simple Portfolio
Current composition and performance
ASSET
INSTRUMENT
TOTAL RETURN
WEIGHT
PROFIT / LOSS
VALUE
AMOUNT
SP500
SPY
−5.6%
46.2%
−$22,219
$377,781
998.00
Bitcoin
BTC
−33.7%
16.2%
−$67,442
$132,558
6.70
Ethereum
ETH
−38.2%
18.1%
−$91,773
$148,227
138.88
Cash
USD
−20.0%
19.5%
−$40,000
$160,000
160000.00
Portfolio
—
—
−18.14%
—
−$221,435
$818,565
—
Notes: updated July 01, 2022 based on total performance since May 16, 2022
By: @ecoinometrics, ecoinometrics.com
At this rate we'll revisit the bottom of our performance (-20%) pretty soon.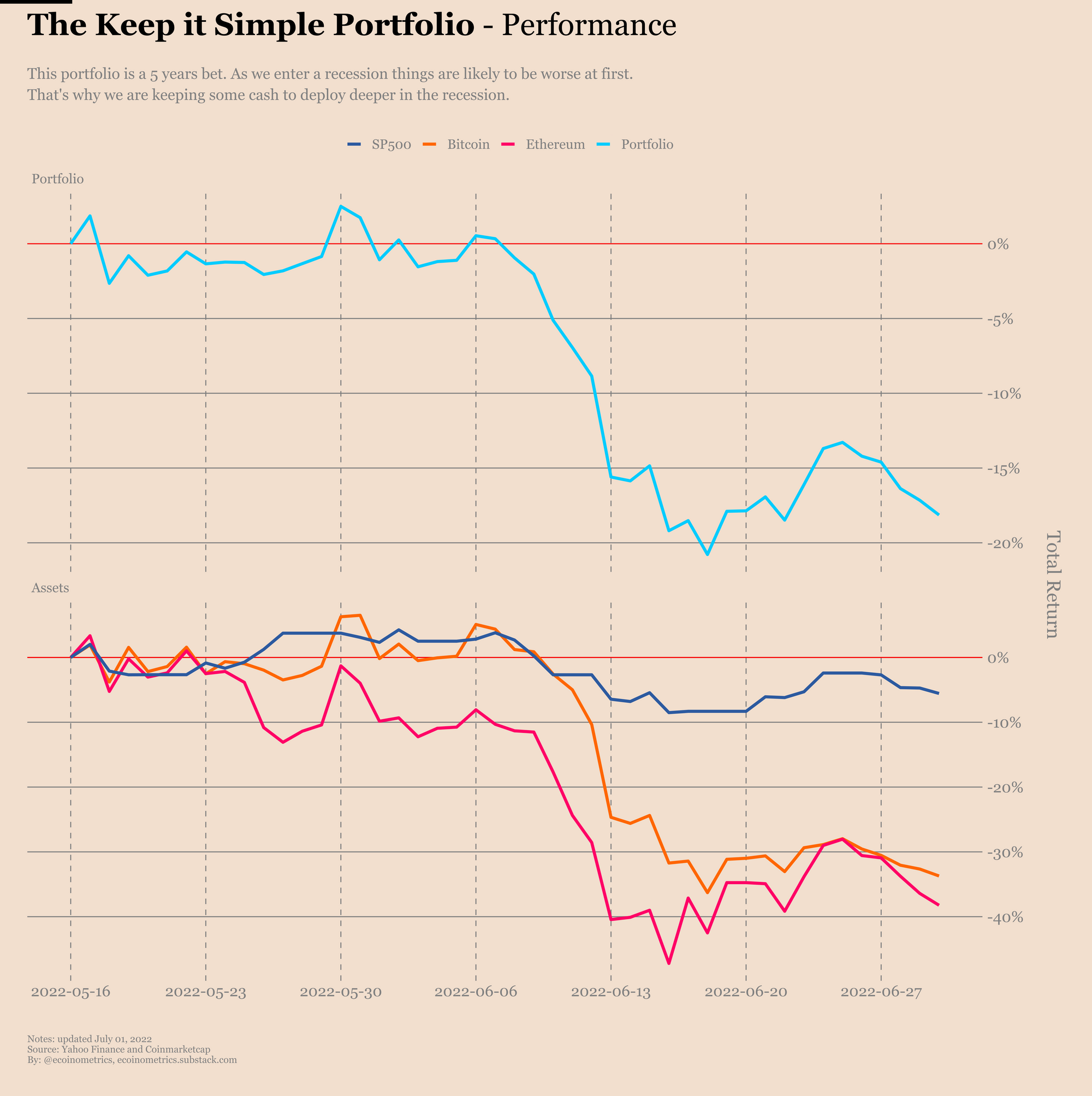 That's fine, we are sitting on some cash to deploy during the next leg down.
---
Subscribe to the newsletter to keep track of where this portfolio is going and understand digital assets through the macro lens.